Fiji's one and only glass blowing studio, Hot Glass Fiji
Hot Glass Fiji has added a serious WOW factor to the growing art scene on the Coral Coast.
Who would have thought that amongst the typical tropical holiday activities of snorkelling, sea sport's and sightseeing, you could have your first hands-on glass blowing experience in this stunning seaside setting?
Fiji's one and only glass blowing studio, Hot Glass Fiji is located along Korotogo's tranquil Sunset Strip.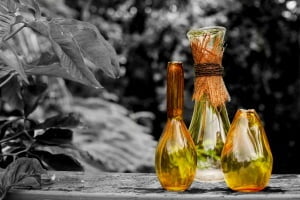 Perched on the hillside, overlooking the sea, you will find the workshop and gallery of popular local artisan, Alice Hill.
Alice offers a range of short glass blowing and sandcasting experiences for beginners as well as longer half-day courses for those keen to get a little more adventurous.
Visitors are welcome, even if only to settle your glass blowing curiosity and to watch Alice and her trusty assistants in action, creating beautiful glass pieces for the gallery.
Glass blowing is a unique visual experience as the team gather, shape and colour the golden molten glass in one fluid process that is almost dance-like in its constant state of movement.
Inspired by the stunning colours of Fiji, distinctive pieces within the Hot Glass Fiji collection reflect the blues of the sea and sky, the ever changing sparkling waters of sandy lagoons, the lush tropical greenery, the vivid colours of fish, birds and flowers and the breathtaking beauty of Fiji's sunsets.
Other collections include elements of Fiji's cultural and traditional handicrafts -natural fibres such as magimagi rope, tape designs and coconut bark are beautifully incorporated to create a stylish addition to your home, and the perfect souvenir.
All of these and so much more are available for sale at the studio.
Wedding Gifts and Favours
Their beautifully crafted items make fantastic Wedding Gifts and Favours and are rapidly gaining in popularity with couples choosing to marry in Fiji.
Brides can even cast their own favours, delivered to your door in time for the big day!
Many stunning Hot Glass Fiji pieces can be viewed online in their e-brochure.
Be sure to 'Like' the Facebook page for photos, updates and news from the studio!
A visit to Hot Glass Fiji's studio is fast becoming an unmissable part of any visit to the Coral Coast.
This slideshow requires JavaScript.