Mango Bay Fishing Carters have been and remain a popular option for Tourists throughout the Coral Coast.
Our clientele range from the inexperienced "Greenhorn's" through to the seasoned experienced anglers here to specifically chase Fiji's vast species of Reef and Game Fishing.
MBFC have been running fishing specific boats out of their Resort in Namatakula since the Resort Operation began in 2006, and currently run two 'Islander' style Long Boats, namely Mango Princess and Charlotte Rose. Each boat is equipped with modern current gear; rods, reels, lures and everything else needed to enjoy the most out of either a 1/2 day, 3/4 day or Full days charter.
Our fishing crew are headed by local Navutulevu skipper Jone Setareki, accompanied by either his Son, Sai or 1st mate Mikey. All experienced, friendly and there to assist in anyway they can to make your day the most enjoyable it can be.
Fiji is well known for its game fishing scene. We service all of the major resorts along Fiji's famous Coral Coast which stretches from the beginning of Natadola, through to Pacific Harbour. Transfers are available on application with one of our private vehicles.
Start out early morning and troll around the school of Skipjack and Yellow Fin Tuna, after which we have a go for the larger species like the Marlin, Wahoo, Mahimahi and if the weather take a turn for the worst we can troll in the protected reefs for Spanish Mackerel, Barracuda, Queen Fish, Blue Trevally and the GT's.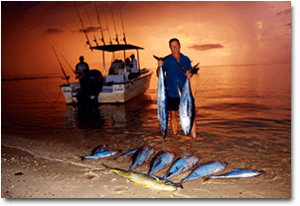 There is also a third vessel onsite; Eilidh Grace which specialises in Sunset Cruising and is the Coral Coast's only known Glass Bottom Boat. Guests from all resorts along here are welcome to come and experience either of these options.
Included in 1/2 day are snacks and non-alcoholic drinks, 3/4 day has light lunch, snacks and non-alcoholic drinks, or Full days charters includes full lunch, snacks and non-alcoholic drinks. Up to 7 passengers are able to accommodate each trip for the following prices if booked directly through Mango Bay:
1/2 Day $1000.00 fjd 3/4 Day $1400.00 fjd Full Day $1700.00 fjd
Find Mango Bay Fishing Charters (MBFC) on your favourite Social network