Outrigger Fiji Beach Resort supports Nadroga/Navosa Secondary Schoolboys Rugby.
Following on from the success of the last year's Nadroga/ Navosa secondary schoolboys rugby challenge, Outrigger Fiji Beach Resort has decided to get behind the local schoolboys competition and sponsor them again in 2016.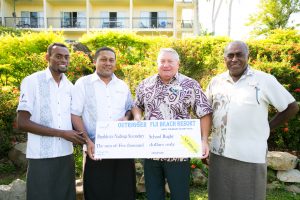 Resort General Manager, Peter Hopgood stated that he was impressed with the commitment of the boys in 2015 and it was an easy decision to get behind them again in 2016.
The resort provided the local competition with a cheque for $5,000 which will be used to assist the teams in preparing for the Deans challenge.
Hopgood stated that "It's every schoolboys dream to take out the Deans trophy and then one day represent the mighty Nadroga Stallions. Rugby is classed as the 4th religion in Nadroga/ Navosa provinces and the staff at Outrigger Fiji are very proud to be able to support this competition in some small way!"