Sixteen women's teams, up from 12 last year, are expected to compete for the $10,000 first prize at Lawaqa Park on November 13-15.
"We are proud to support the growth of women's rugby in Fiji and thrilled to see this expansion to 16 teams," said Chris Zaayman, General Manager Goodman Fielder (Fiji) at today's announcement. "Next season is Olympic qualifying year and the Crest Na Iri Trophy will be a vital part of the development of the Olympic programme for a number of teams."
Telecom Fijiana, the defending champion, and Aussie Pearls, the 2012 winners, are the highest-profile teams announced to date, with both being likely to qualify for Rio 2016.

Other teams confirmed for the Bayleys Fiji Coral Coast Sevens are the national teams of New Caledonia and Papua New Guinea and Australian clubs Sunnybank, Redlands, Highlanders, Sydney Fiji Ranadi and Pacific 2 Blues, while two more overseas teams are showing interest.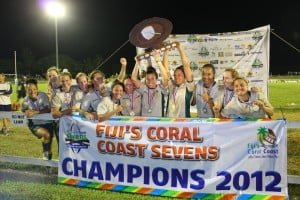 Marist Sea Hawks, Lautoka, Striders and Lady Babas are the local teams signed up so far.
Last year's Crest Na Iri Trophy was won by Fijiana, 19-7 over Marist Seahawks.
"The girls are very excited to be defending the Crest Na Iri Trophy and we are looking forward to the challenge of qualifying for the Olympics," said Rusila Nasiga, captain, Telecom Fijiana. "The team is grateful to Crest for their support of the development of women's sevens."
Telecom Fijiana will attempt to become a core team on the IRB Women's Sevens World Series at a 12-team tournament in Hong Kong on September 13-14. The top four teams on next season's six-leg WSWS will automatically qualify for Rio 2016.
"The expanded Crest Na Iri Trophy is a positive sign for women's rugby and a fantastic opportunity for local talent to shine ahead of the critical Olympic qualifying year," said Tournament Director Nick Jordan. "The Bayleys Fiji Coral Coast Sevens is the premier tournament for women in Fiji and the support of Crest will again showcase Fiji's best players to a global audience and continue the development of women's rugby in Fiji.
"We are thrilled to welcome Crest back to the sponsor family."
Meanwhile, with 100 days to go being celebrated tomorrow, Jordan said planning for the fifth Bayleys Fiji Coral Coast Sevens was well underway.
Approximately 15 overseas teams – the most in any tournament in Fiji – as well as international referees, media and special guests are expected to bring significant tourism dollars into the country.
Bayleys Real Estate (Fiji) is the title sponsor of the tournament while Outrigger on the Lagoon · Fiji, The Naviti Resort, Bedarra Beach Inn and Gecko's Resort are all Official Resort Partner Hotels.