In Anticipation For The Fijian Tourism Expo, Outrigger Fiji Beach Resort And Castaway Island, Fiji Collaborated To Host A Progressive Dinner For 11 Key Partners Plus 9 Staff On Friday 5th May.
The evening celebrated a successful 2022 and strong booking pace for 2023 across both resorts. It also provided an opportunity to express gratitude and acknowledgement to industry partners' support, and gave guests an early look at the renovated rooms and bures at Outrigger Fiji.
Situated at Outrigger Fiji Beach Resort, guests were greeted by Fijian warriors on arrival and serenaded by Vou Entertainment Group. The evening began with pre-dinner drinks at the Bebe Spa Sanctuary, with views overlooking the Coral Coast.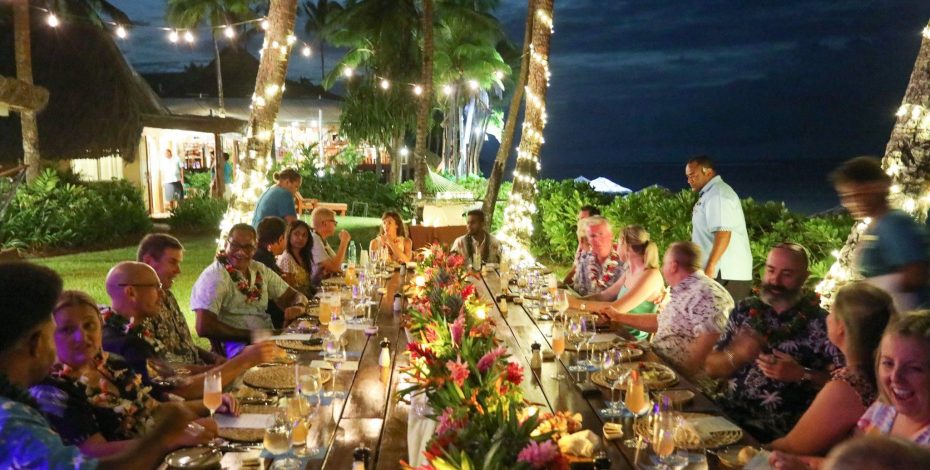 Guests in attendance included a mixture of key industry partners across wholesale, OTA and weddings, Fiji Airways and other Fiji based suppliers.
There was an exclusive opportunity to have an early look at the renovated rooms and bures at Outrigger Fiji, which is part of the resort's US$14 million refurbishment, scheduled to be completed by December 2023. The Beachfront Bures were also open for inspection.
The Talai team were on hand to showcase the resort's Signature Talai Service. Available to guests who stay in Ocean View rooms, suites or bures, a traditional and exclusive five-star butler service is offered.
After dinner, the lights were dimmed and guests were escorted to a viewing area where Vou Entertainment Group wowed the audience with a shining performance.
The night finished with a selection of drinks and music provided by Sundowner Duo.
Ben Johnson, area director of sales and marketing, Fiji Islands said: "It was a wonderful evening spent with colleagues, key partners and friends, together with the 'Bula Spirit' evident throughout the night.
"Both Outrigger Fiji Beach Resort and Castaway Island Fiji, co-hosted yesterday evening's event with a purpose on saying 'Vinaka Vakalevu' to our supportive industry partners for a successful 2022 and for an already very promising 2023 ahead. And with Outrigger Fiji's renovation underway, we are extremely excited for the resort's next chapter."