Outrigger protects clams and coral as part of world oceans day celebrations

CORAL COAST, FIJI –  The relocation of a giant clam and coral planting formed part of Outrigger Fiji Beach Resort's World Oceans Day and 1st anniversary of OZONE, (Outrigger's Zone)celebrations.
Along with the mature, 20 year old clam the resort also adopted three infant clams that will be protected and nourished to ensure they grow to maturity.
The clams serve as natural water purifiers and will add to the on-going efforts of the resort to regenerate the reef system on which it is located.
OZONE (Outrigger's ZONE) is a global conservation initiative centered on protecting the health of coral reefs and the oceans surrounding the iconic beach destination.
Guests, visiting journalists and the resort team also installed four fish houses and planted 76 pieces of coral as part of a coral propagation program.
General Manager, Peter Hopgood says "the giant clam is now a feature part of the guided snorkel tour conducted by the resort in its continued efforts to raise awareness of marine protection among guests".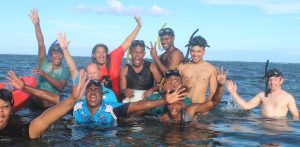 The family-friendly resort features include a MeiMei nanny service offering care for infants aged 6 months to 12 years and Kids Clubs – Little Riggers for ages 3 to 7 and Beach Riggers for ages 8 to 12 years.  A Teens' program which mixes cultural and sporting activities to keep young adults engaged is also available. In addition to the Vahavu pool complex, parents also have exclusive use of Bebe Spa Sanctuary, Kalokalo hilltop bar perfect for a peaceful sunset cocktail and the resort's signature fine-dining restaurant, Ivi.