Fan favourite Rasta Rasivhenge will feature again atFiji's Coral Coast Sevens in January.
The 30-year-old, who took charge of the Olympic Games gold medal match last month, first refereed in Fiji in 2014 and will be back for the tournament at Lawaqa Park on 18-21 January.
"I was overwhelmed with the support that I received my first time in Fiji and I can't wait to get back and be part of this special tournament," he said from South Africa. ""The Coral Coast Sevens was tremendous back then and I really enjoyed it and I am sure the standard will be just as high this time around."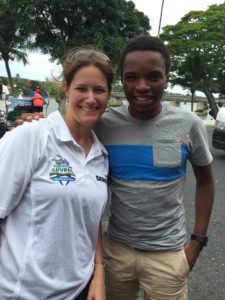 Rasivhenge had the whistle when Fiji thrashed Great Britain 43-7 to win the country's first-ever gold medal in Rio. Last October he became the youngest man to referee the Currie Cup Final in his home South Africa while this year he became a Super Rugby referee for the first time.
In July, Rasivhenge refereed his first Test match between Uganda and Namibia.
"The Olympics were definitely the highlight of my career and the Fijian performance in the final was simply outstanding," Rasivhenge continued. "There is nowhere on earth that plays sevens like Fiji and I am looking forward to getting back amongst the locals again.
"We are delighted to welcome back Rasta to the Coral Coast as he was a wonderful ambassador for the game back in 2014," said founding Chairman Jay Whyte. "The people of Fiji love the way he referees rugby sevens and he is an inspiration for the local referees and officials.
"We were excited when he was awarded the Olympic final and have no doubt he will continue to be among the best referees on the world circuit this season."
The Fiji Coral Coast Sevens, founded in 2010, is the 'champion of champions' for the Pacific Rim and features 16 men's and 16 women's teams contesting more than $70,000 in prizemoney. Teams from Australia, Asia, the USA and Europe have been invited to take on the best sides in Fiji at the seventh edition in January.
Police and TFL Fijiana are the defending champions of the senior tournament while Lelean MS is the reigning champion of the Uprising Schools Sevens.