Robinson Crusoe Island is a Tropical Island Treat, offering a truly unique Cultural Experience
With traditionally themed accommodation including artfully decorated Island Lodges and Bure Levu's with their own eco friendly private ensuites and balconies.
Complimentary toiletries, towels, bottled water, tea & coffee making facilities are included. For the budget conscious there are Island Bures, Bure Lai Lai's and dormitories.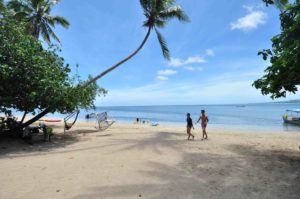 It is a place where you can do everything or nothing. Packed with cultural and educational activities for the whole family to enjoy.
For those wanting rest and relaxation, the island has a beautiful beachfront with hammocks and swinging chairs that you can laze in by the lagoon.
Fresh local produce and fish, fine cuts of meat and traditional lovo feasts will delight your taste buds in open air dining peering across the ocean.
The beachfront bars are a great place to cool off and have a tropical cocktail or cold beer.
Be enthralled by the famous South Pacific Island Dance Spectacular! You will be captivated by the Polynesian, Micronesian, Melanesian dances with some of Fiji's best knife and fire performers.
If looking for a tour providing the best value for money, there are day, combo or night tours available. Do as much or a little as you like, a great range of free activities are included in the tours along with many additional activities at extra cost.
Free activities
Our famous South Pacific Island Dance Spectacular that is on 5 times per week. Snorkelling Trips with snorkelling gear provided. Journey around the island in a Sea Kayak.
Learn about the traditional method of fishing and participate in a fish drive.
Our crazy 'Medicine Man' will take you on a walk to teach you about the benefits an uses of the plants and trees on the island.
You will hear the story of the 'Tree of Life', the Coconut Tree and see coconut climbing, basket weaving and make your own coconut jewellery.
Try your hand at making a dance costume and learn Island Dance from the show choreographer.
Every night there is a Kava ceremony and a sunset bonfire on the beachfront.
Paid activities include
The Nautilus Day Spa for a well deserved pampering with massage, pedicure, hair braiding and body treatments.
For the keen angler there are sports fishing packages with well maintained boats, quality Penn & Shimano rods and reels or use your own favourite gear. Likely catches are Mangrove Jack, Giant Trevally, Spanish Mackerel, Barracuda and many other tropical species.
Stand-Up Paddle Boarding is available at the island. Five minutes from the Island Jetty is the world famous Natadola beach and the Natadola International Golf Course. We can also arrange school visits, village tours and shopping trips all located near to the island.
Robinson Crusoe Island have year round specials and package options to suit all budgets. Keep on eye on the website for the most current deals.
Robinson Crusoe Island is a place where you will arrive as a guest and leave as part of the family.
Find Robinson Crusoe Island on your favourite Social network