Shangri-La's Fijian Resort & Spa
Named "BEST Family Resort In Fiji" By Holidays With Kids The For Seventh Consecutive Year
Coral Coast, Fiji, 30 September 2013 – Once again, Shangri-La's Fijian Resort & Spa heads the list of the "Top 10 Family Resorts in Fiji" in a 2013 Reader's Choice survey conducted by Holidays with Kids magazine of Australia.
The annual survey covers Australia and other international holiday destinations.  Asia and the PacificIslands are by far the most visited overseas, with destinations as Bali, Fiji, Thailand and Malaysia earning their own Top 10 lists in the survey.  Over 600,000 readers and 53,000 registered members of the magazine's online version were asked to vote for the best family‑friendly resort they experienced this year.  Resorts were rated on how well they met and exceeded expectations in customer service, facilities, standard of accommodation and the range of family-oriented activities on offer.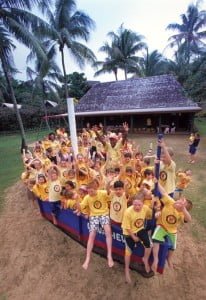 "To receive this recognition consistently for the last 7 years is no doubt a testimony to the genuine and caring nature of our employees" said Michael Monks, the resort's general manager.  "The cultures of Fiji and Shangri-La are both founded on strong family values, and these are evident in our daily interaction with guests and in the passion for creating memorable stay experiences that families will treasure."
From the inception of the Holidays with Kids awards in 2003, Shangri-La's Fijian Resort & Spa has ranked among the Top 10 Family Resorts in Fiji.  Since 2006, the resort has topped the list every year as the readers' favourite destination in Fiji — a region renowned for its family-friendly resorts.
"Holidays with Kids congratulates Shangri-La's Fijian Resort & Spa on their seventh successive year as the top resort in Fiji for families", said Cathy Wagstaff, magazine publisher.    "Our readers gave top marks for the resort's consistency in providing a great family environment.  The staff are natural hosts, and the range of facilities and family-friendly activities as well as the natural attributes of the island resort are superior."
Holidays with Kids is the highest circulating travel publication that goes out to consumers and travel agents in Australia. It is also distributed in-lounge and in-flight by several airlines, including Qantas and in-store at McDonald's restaurants and Rebel Sports stores throughout Australia.
Details of each of the top 10 properties are posted on the Holidays wth Kids website, which receives over 5.5 million hits and up to 1.8 million page views per month.
Hong Kong-based Shangri-La Hotels and Resorts currently owns and/or manages more than 80 hotels under the Shangri-La brand with a room inventory of over 34,000.  Shangri‑La hotels are five-star deluxe properties featuring extensive luxury facilities and services.  Shangri-La hotels are located in Australia, Canada, mainland China, Fiji, France, Hong Kong, India, Indonesia, Japan, Malaysia, Maldives, Philippines, Singapore, Sultanate of Oman, Taiwan, Thailand, Turkey and the United Arab Emirates.  The group has a substantial development pipeline with upcoming projects in mainland China, India, Mongolia, Philippines, Qatar, Sri Lanka and the United Kingdom.  For more information and reservations, please contact a travel professional or access the website at www.shangri-la.com.