Despite the shattering impacts brought to our shores by COVID-19, the company has been able to pick up its booking for this year and next year as well.
Owner and operations manager of Ecotrax Fiji on Fiji's Coral Coast, Mandy de Vries said they were now getting about 10 family groups from Australia booking every day through their website. She said tourists were also excited to be able to return to Fiji.
Ms de Vries said the months of December and January especially were gearing up to be busy which was exciting.
She highlighted that Ecotrax was about to open a second tour in April last year to meet the ever growing demand when COVID hit us.
However, she said they were tremendously supported by the local market but took a huge hit financially.
Ms de Vries said due to COVID-19 the company concentrated on looking after it's core staff by moving them onto their compound so they didn't have to have the added burden of finding rent, power and water costs over the past 18 months.
"We have maintained our track and machinery while raising money through a GiveaLittle page to help out the villages along our tour path with essentials and repairs when Tropical Cyclone Harold struck just after COVID broke out," she said.
"It has been a very hard time but also very rewarding.
"We've been able to help out the local police and villages along the Cuvu back road with walkie talkie radios used during curfew hours to keep each other informed of anyone not following rules and also help out the Ministry of Health and Medical Services identify vulnerable people locally and transport them to their houses to get them vaccinated early in the COVID outbreak. Ms de Vries also said there would be a pick-up in business next month with international guests coming in.
"We have enjoyed taking so many locals on their Ecotrax adventure and continue to be relatively busy with that this month. From about December 4 we are going to get busy with international guests. She said the company was ready to showcase what they offer to the world again.
"You (tourists) can expect to have an adventure you won't ever forget.
"Riding the electric 'velocipedes' along the deserted tram line is such a fun activity and the beautiful beach stop at the halfway point will blow you away.
"Refreshments are provided along with lots of laughs with our professional and knowledgeable guides. Every member of your family will love it, from the babies right up to the grandparents."
Ms said de Vries all their staff members would be fully employed when business gets going properly, "We have eight of our staff now living onsite in our Ecotrax housing, six of these are back in employment now gearing up for the border reopening, with a further eight to be taken back on when business gets going properly.
"We are doing a big renovation at our base at the moment, a new toilet block, complete base repaint and some remodeling, as well as a total overhaul and design change on the velocipedes so it's a fun and exciting place to be in the lead up to December 1."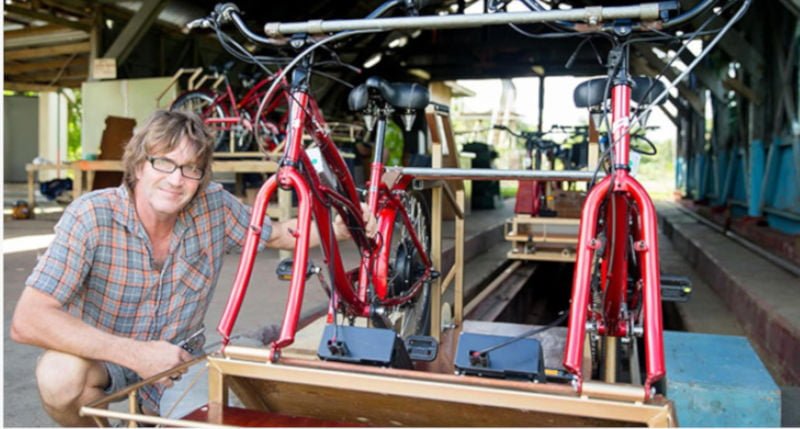 "This is an experience that will never be forgotten," Turanganikeli said. Local musician and songwriter Viliame Navoka who also tried out the ecotrax is calling on Fijians and tourists to make their bookings early with ecotrax.
He said the trip was worth the money spent.
"You have so many beautiful sceneries and the experience is just too good," he said. "If you haven't been to ecotrax, book with them now, it surely is worth it and the hospitality provided by them is outstanding."
Meanwhile, Eco Trax Fiji is a world's first! Electric assisted bicycles mounted side by side on a carriage on the old sugar cane tram line.
The Ecotrax Fiji tour is set in Coral Coast's century-old Sugar loco shed at Cuvu.
The shed was used to be a hub for trains transporting cartloads of sugarcane to the mills in Lautoka.