The Fiji Hideaway Resort and Spa is a boutique beachfront holiday resort ideally located on the beautiful Coral Coast, along a beautiful stretch of white and exotic sandy beaches.
Famous for the friendliness and fun of the Fijian locals, the resort offers a tropical setting, perfect for a relaxing holiday with the option to participate in an extensive array of activities if you so choose.
There are numerous accommodation & package options from romantic deluxe ocean view bures to family beachfront villas.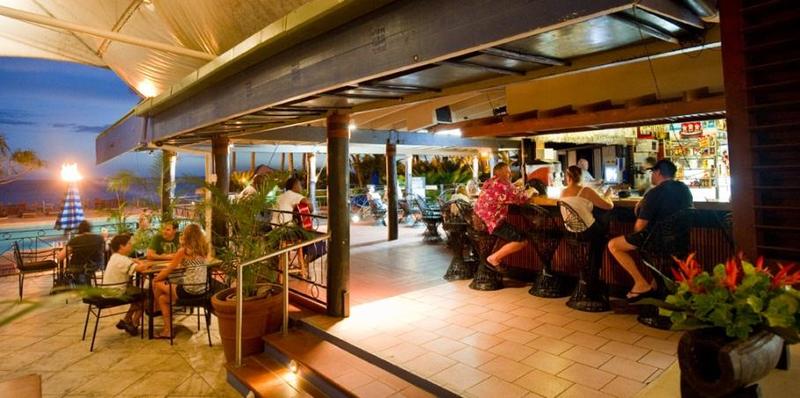 All resort accommodation is perfectly positioned amongst a palm lined beachfront facing the stunning ocean lagoon – located only a few small steps from your front door.
The on-site Day Spa also provides the ultimate pampering experience with a tranquil Reflection Pool and Spa and unique Lava Rock Sauna.
Whether you're after an indulgent escape or an action-packed getaway, the Fiji Hideaway Resort and Spa is the perfect Fijian holiday destination.
The resort offers varying styles of accommodation from Frangipani Bures, surrounded by lush tropical gardens; to Ocean View Bures and Family Beachfront Villa's and all accommodation is only a few casual steps to the pure white sandy beach of the lagoon.
Fiji Hideaway Resort and Spa also provides a Family two Bedroom Bure and off course the Deluxe Beachfront Bure.
All bures are air-conditioned, have IDD phones, separate ensuite bathrooms, hairdryers, fridge, tea and coffee making facilities, complimentary toiletries, iron and ironing board.
Fiji Hideaway Resort and Spa offers much more incentives that will ensure a lasting and fruitful stay with our special offer package so come and Join our e-news club and experience all the splendor and wonders of your vacation.
Located along the Coral Coast stretch, Fiji Hideaway Resort and Spa is certain to give you the best of both worlds plus with Fiji Hideaway Resort and Spa, you have the opportunity to experience the real Fiji by visiting the friendly locals in their village along with some of Fiji's amazing natural attractions.
From the hot springs and ancient caves of Busa to a tour along the Sigatoka River through tropical rainforests to tiny and hospitable local villages, there are some great experiences to be had in Fiji.
Now is the time for you to experience the all famous Fijian hospitality while taking in the pristine coral beaches and majestic lagoons with year round warm tropical waters
Getting to Fiji Hideaway Resort and Spa is simple as Fiji's International Airport is located in Nadi which is a 90 minute drive away from us while travelling through tropical countryside and quaint local villages, our friendly reservations team can organize your transfer at the time of reservation via private car, taxi, or coach – fees apply.
A number of International airlines have flights into Fiji which include Qantas, Air New Zealand, Korean Air, Pacific Blue, and V Australia. Air Pacific is the national carrier and has direct flights from Brisbane, Melbourne, Sydney, Auckland, Christchurch, Honolulu, Los Angeles, Vancouver and Japan.
Getting Around
Transportation is abandon and one can only be sure to find the nearest taxi available from the Resort to Sigatoka for duty free shopping, or our tour desk can organize a rental car for you to explore the region and it's natural attractions as Sightseeing around the Coral Coast is a must, with beautiful beaches and coral lagoons to explore.
Things to Do
For Activities and Tours, they have been especially designed to enable you to gain the maximum enjoyment from your holiday while at the same time enjoying new discoveries related to Fijian life, try a new sport or simply enjoy the pleasures of doing something you may already be familiar with.
We also have a free activity and entertainment program with new and exciting activities operating daily that run from morning to night such as Diveaway Fiji, Hideaway Hurricanes, Snorkeling, Surfing, Local Tours, Culinary Culture Experience, Traditional Kava Ceremony and Fire walking Ceremony.
Professional entertainment is programmed nightly in the theatre restaurant, by the pool or in the Fire Walking Arena.
Our free Daily Activities include sporting events that keep you entertained and right at home which beach volleyball, tennis, kayaking to guided tropical garden walks while the Nightly Shows includes a full Polynesian dance show, the fun of Perfect Partners, a children's fashion parade, and traditional Fijian entertainment.
For Local Tours, the Rosie Tour Desk can organize all of your half day and full day tours, ranging from world class golfing, to deep sea fishing and cultural tours.