Sigatoka and Nadroga is famous for the annual Bilibili Race a festive sporting event involving employees of the province's hotels and resorts, located along the Coral Coast.
Apart from the tug-of-war, sack race and other competitions, the highlight of the event is the famous "bilibili" (bamboo raft) race across the Sigatoka River.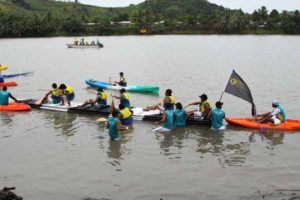 The Silly Billy Race? NEVER! The "Bilibili" as it is locally called is the highlight of the year for the many staff working in resorts on the Coral Coast.
Sigatoka Town is again keenly anticipating much colour and merrymaking when it hosts the Bilibili Race, involving hotel workers racing on bamboo rafts, in October 2012.
All the hotels along the Coral Coast are gearing up to the annual event which has become a major tourist attraction in recent years.
Tournament coordinator Unaisi Murray said the organizers were preparing for another blockbuster event at the banks of the Sigatoka River during the Fiji Day holiday.
"The Bilibili Races are in the blood of hotel operators in the Coral Coast. We expect another sellout programme where locals and tourists mingle together in sports," Murray added.
The 2012 Bilibili Boat Races and Fun Run will be held on Friday 12th October 2012.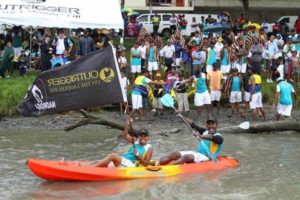 A 20-kilometre fun run relay from the Fiji's Hideaway Resort and Spa to Sigatoka Town will start the event at 0730 followed by competitions like egg throwing, coconut tunnel, kayaking, waiters' race, swimming, water relays, iron man competition and the famous bilibili races.
"We start with the national anthem and a march past before the waiters' relay races start the tournament followed by other 16 events," she added.
The Shangri-La Fijian Resort is the overall defending champion of the 27th Bilibili Races last year.
Hotels from Suva, Mamanuca, Nadi and Sigatoka will compete in the annual tournament.
The History….
Sigatoka Bilibili Race started as a bit of simple fun in 1984 by a a group of Coral Coast hoteliers.
A reasonable crowd of hotel staff and supporters enjoyed themselves with barbecues and refreshments in those early days of the event. This was the birth of a much- anticipated annual event that has become a tradition for the area.