Escaping the withering clutches of a New Zealand winter for the balmy embrace of Bula time, I ventured to the storied Coral Coast of Viti Levu, the time-honoured cradle of Fijian tourism.
Despite Fiji's far-flung abundance of alluring destinations, the Coral Coast's 80km necklace, spanning Sigatoka to Suva, is still a resort-laden jewel of sugar-white sandy beaches and bays, dotted with lush vegetation and interspersed with villages.
If you're a lover of history like me, you may well know that it was in the 1950s' that bures first captured the world's holiday imagination.
It was the trail-blazing Coral Coast hotelier Bill Clarke who first promoted individual bungalow-style units as "bures" – and the rest is history.
My illustrious Coral Coast base was the Shangri-La Fijian Resort & Spa Yanuca Island, which is celebrating its 55th anniversary this year.
The 30-hectare resort is located just off Queens Road, adjoined by a causeway onto Yanuca Island, fringed by a languid lagoon, sandy beaches, tropical gardens and mangroves.
Since opening in 1967, the sprawling resort (which has been managed by Shangri-La for most of that time) has grown from 108 rooms to 443 bures, rooms and suites – all with unobstructed ocean or lagoon views.
Just 50 minutes drive from Nadi Airport, not only is this Fiji's biggest single hotel, but it employs over 700 people – underscoring the importance of tourism's anchor to the financial livelihood of Fijians.
Don't let the scale of this resort put you off – you've got the whole island at your disposal and I never had a problem finding a secluded patch of palm-fringed paradise, for some quality chill-time sans the crowds.
Just prior to Covid, the landmark resort underwent a $NZ70 million tip to toe makeover, refreshing the resort's accommodation, spa and food and beverage outlets. Needless to say, the property looks absolutely resplendent.
Adults-only enclave – The Reef Wing
A signature new element from the refresh is the Reef Wing. More than a quarter of the island has been dedicated to this adults-only enclave, boasting tranquil and secluded accommodations, adults-only dining options and a magnificent infinity pool. You can also indulge in complimentary sundowner cocktails and canapes.
Yanuca Lagoon wing
I opted for the Yanuca Lagoon wing of accommodation, which adjoins many of the resort's water-based activities, overlooking that fabulous fish-filled lagoon.
Despite being in the family-friendly precinct of the resort, my Yanuca Lagoon Bure felt isolated from the throngs and serenely blissed-out. It's the sense of space that first stirs the senses as I admired the artful design features of my traditional Fijian beach bungalow.
Stepping out onto the deck, the lagoon lapped at my feet like a lullaby. Beautifully-appointed, with separate living and dining areas, flat-screen cable TV, DVD player, great wifi, a marble bathroom with soaking tub, tea/coffee making facilities and a cloud comfortable bed, it really is seventh heaven.
Raising the culinary bar
But the biggest transformation to the resort has undeniably been focused on raising the culinary bar, because the profusion of on-site dining experiences is exceptionally impressive.
Executive Chef Rudolf Kunkel has assembled a stirring team of culinary wizards, both local and international, who weave their magic across half a dozen resort venues. More than 75% of all meat and fresh produce, including seafood, is now sourced locally.
Takali Asian Kitchen
Takali Asian Kitchen is the new fusion restaurant, perched above the reef and serving up drool-worthy dishes, from spicy dumplings to sizzling seafood curries. You can even pair your meal with one of the 21 gins on offer. I highly recommend the Singapore style Chilli Crab, crafted from Fiji mud crabs cooked in a savoury tomato chilli sauce and served with mantou buns.
Head to Golden Cowrie Coastal for top-notch Mediterranean-style dining, beautifully crafting authentic Italian dishes from the island's freshest seafood and local produce. Sous Chef Bruno Bettinazzi hand-makes all of the soft cheeses and pasta. Tuck into the Bombolotti pasta with prawn mousse, prawns, black truffle, pistachios & almonds. Magnifico.
The venue also transitions into a soothing oasis for an adults-only breakfast, if that's your preference. The resort's main dining restaurant, Lagoon Terrace, is where to head for buffet breakfast, deli-style lunch and a wide array of global dishes for dinner, from the live cooking stations.
Black Marlin Tropical Bar
I've always been enamoured by the tiki bar vibe across the Pacific and the resort has recently reintroduced an old-timer, the Black Marlin Tropical Bar. First established over half a century ago, this upmarket tiki bar boats a staggering array of 100 globally-sourced rums, complemented with Fiji's own label, Yanuca Rum, which is distilled locally for Black Marlin patrons. Get amongst it!
There's also a cute sand in the toes Bilo Bar, which is a cracking spot for sundowners, as the slumping solar orb lights up the sky in molten gold.
Natadola Beach
Water-lovers, rejoice. The resort lays it on thick with aquatic adventure options, from jet ski safaris to Natadola Beach and Sunset Cruises to the enormous inflatable water park hat has recently been erected in the lagoon.
Little Chief's Club
If you are travelling with kids, the resort's fantastic Little Chief's Club will keep them enthralled. A wildly popular activity is building fish houses that, when dry, are placed in the lagoon and became home to fish, clams and baby cowrie shells. You can even get the GPS co-ordinates for your fish house and track the progress of its inhabitants.
CHI, The Spa
For supreme pampering, how could you possibly say no to some personal body panel-beating at CHI, The Spa? Set away from the main resort, the seclusion dial is turned up high, wrapped in rainforest, lap pools and day beds. My sixty minute treatment was a traditional Fijian Bobo massage, firmly administered, using a rich coconut oil blend to increase circulation, draw out toxins and reduce muscular aches and pains. I felt ten years younger.
It may sound like a Fijian cliché, but what really stole my heart about the resort are its people, because its generously staffed with the most ebullient, big-hearted, attentive and personable hospitality pros you could imagine.
You also don't feel estranged from the beating heart of the mainland. The resort is assertively engaged with the wider community, dedicated to its protection and prosperity through a variety of projects.
Shangri-La's Marine Education Centre
Shangri-La's Marine Education Centre is a must-visit, which also plays a huge role in educating local school groups about reef conservation. The resort plays a hand-on role safeguarding the Sigatoka Dunes national Park with protective fencing.
It's well worth a visit to admire the unique dune formations and dry forest, home to archaeological remnants stretching back 3000 years.
Resort guests who are members of the Bilo Bar Club continue their tireless efforts to support local villages, from building kindergartens and donating school supplies to advancing community health services like dialysis treatment for children.
Ecotrax
What's in the neighbourhood? Definitely take a ride with Ecotrax, located right next door to the resort on the Coral Coast.
Launched four years ago, a couple of Cromwell expats, Howie and Mandy de Vries are the powerhouse behind this riveting eco-venture, which has repurposed 28km of retired sugar cane train railway line for a blissful ride through the villages, forest and coastline of the Coral Coast. Ingeniously reviving the 19th-century velocipede, you are riding on rail-mounted bicycles, with electric-assisted batteries, on this very quirky excursion.
Your adventure starts in a century-old locomotive shed where our infectiously vivacious hosts, Britney and Dolly, get us ride-ready, while seated in a row of aircraft seats that were salvaged from the set of the American TV series, Wrecked, which was shot nearby.
Configured in pairs, before we know it, we're off on our velocipedes clickety-clacking down the tack, purring across open fields, edging deserted beaches, through rock cuttings, across rickety old river bridges and enrobed in tropical forest. There is one particular section where the long, low-slung canopy forms a wondrous "Tunnel of Love."
A frisson of pure joy takes hold when a village comes into view, like Malomalo, with friendly villagers and excitedly waving children leaping to their feet to greet us with their flashing smiles and ebullient bulas, as we pedal by.
The line takes us to stunningly serene Vunabua Beach, a pristine sweep of sugar-white sand, limpidly caressed by an iridescent lagoon.
A paddle here is compulsive, backed by rocky coral outcrops festooned in lush foliage.
A small herd of horses were grazing on the coastline, wrapped in gazillion-dollar views. Only in Fiji.
Britney and Dolly whipped up a lavish platter of freshly cut tropical fruit which we eagerly tuck into, while sipping on coconut water, straight from the fruit, fuelling us up for the return leg home, on this 24km long railbike blockbuster.
To the east of the resort, I also took a short hop to bustling Sigatoka, a proud rugby town, and the salad bowl of Fiji, given the bountiful produce growing in its valley.
Hot Glass Fiji
Just out of town on the Sunset Strip, pop into Hot Glass Fiji, a magnificent glass blowing studio and workshop perched on the hillside, where I was given a hands-on lesson in creating glass art.
Glass blowing is a unique visual experience as the team gather, shape and colour the golden molten glass in a fluid process that is almost dance-like in its movement.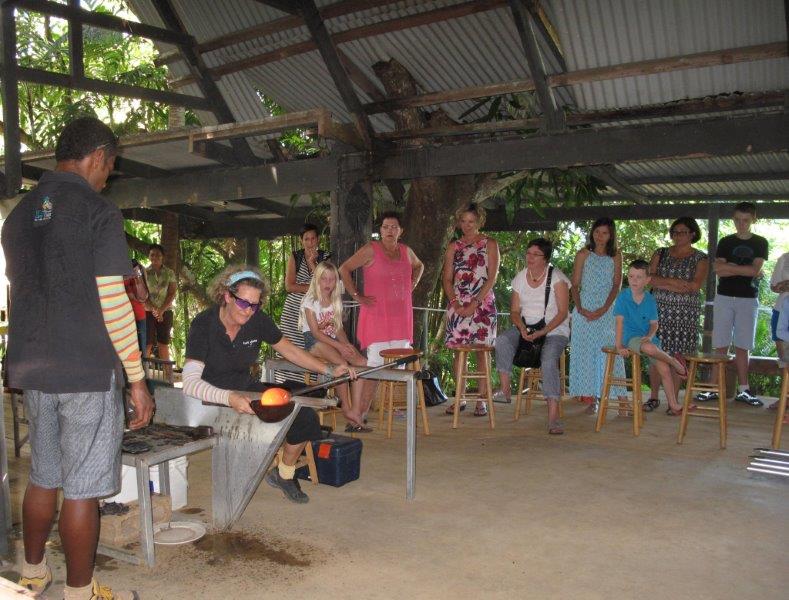 Established by Alex and Alice Hill, it is the stunning colours of Fiji, the blues of sea and sky, the ethereal turquoises of the lagoons, the vivid hues of the fish, birds and foliage that inspire the artworks.
They've trained a number of local glass blowers, and it was Pita Vibose, a rugby-mad man mountain with legs as thick as tree trunks, who put me through my glass-blowing paces.
I ended up creating a delicate red-tinted glass bowl – ideal for lollies on the table.
But if you'd rather leave it to the pros, their extensive gallery of pieces are enchanting – tailormade keepsakes that encapsulate the colour, grace and charm of Fiji, to cherish when back home.
Fiji Airways
I tripped to Fiji with Fiji Airways, who fly to Nadi from Auckland, Wellington and Christchurch. Return economy flights start from just $599, or upgrade to business class from just $1190. Enjoy 15 minutes free text plans, while affordable wi-fi plans are also available. Plus enjoy a generous economy class baggage allowance of 30kg. Fiji Airways is also offering great-value exclusive package holidays.
Fiji's Coral Coast
With 333 islands, white sand beaches and year-round tropical warmth, this beloved Pacific Island nation is absolutely open for happiness. Whether you're after a fly and flop getaway, a romantic sojourn or an adventure-packed escape, make your first port of call the official website.
Mike Yardley is our resident traveller on Jack Tame Saturday Mornings.
Mike Yardley, Sat, 25 Jun 2022
https://www.newstalkzb.co.nz/lifestyle/travel/mike-yardley-lapping-up-fiji-s-coral-coast/